Printed Circuit Boards
PG Technologies currently supplies printed circuit boards to a vast array of markets and industries around the world. We specialize in the manufacture of high-build, multi-layer (up to 14 layers), as well as flexible, single and double-sided boards.
We can meet the latest technical specifications for conductor width and insulation gap by utilizing the latest technology in design and production techniques. Our flexible manufacturing processes allows us to achieve optimization in quality, production and delivery times.
Production processing is based on the use of a standard 21″ x 24″ (533mm x 610 mm) panel, which offers several advantages, such as:
Even process flow and quality
Lower production costs
Less retooling between orders
More efficient utilization of raw materials
A high degree of automation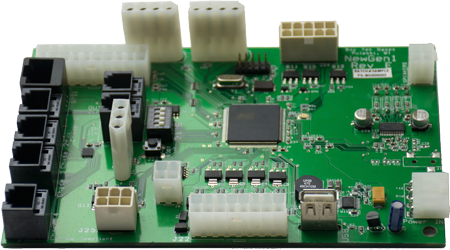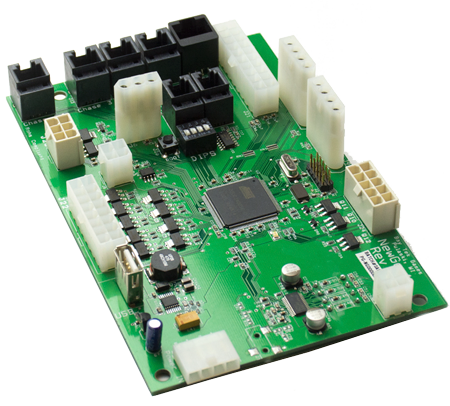 Design and Production
The elements in our production processes that receive the greatest emphasis are the programming phase, set-up, and accurate data input. By collaborating with our customers closely our potential for error is reduced or eliminated before production begins.
PG Technologies utilizes in the manufacturing process the latest advanced information and process control technologies which requires competence and experience in mechanical, chemical, electronic engineering, and printing. All stages of the manufacturing process are documented in our quality management system. Some specifics about our processes capabilities are as follows:
| | |
| --- | --- |
| Materials | FR-2, FR-4, CEM-1, CEM-3, |
| Maximum Layer Count | 14 Layers |
| Maximum Panel Size | 21″ x 24″ (533 x 610 mm²) |
| Min. Board Thickness | 10 mils (0.1 mm) |
| Copper Clad (inner) | 1/2 oz., 1 oz., 2 oz. |
| Copper Clad (outer) | 1/2 oz., 1 oz., 2 oz., 3 oz., 4 oz. |
| Minimum Trace (width) | 4.0 mils (0.1 mm) |
| Minimum Trace (spacing) | 4.0 mils (0.1 mm) |
| Hole Size Tolerance (NPTH) | ± 1 mils (± 0.03 mm) |
| Hole Size Tolerance (PTH) | ± 2 mils (± 0.05 mm) |
| Minimum Hole Size | 8 mils (0.20 mm) |
| Surface Finishes | ENTEK, Immersion Gold, Hard Gold, Hot Air Solder Levelling |
| Carbon Printing | Electra ED5000, |
| Outline Dimensional | < ± 3 mils (0.076 mm) |
| Other | Blind/Buried Via, Peelable Mask, V-Cut , Routing, Punching |
| Accreditation | ISO9001, ISO9002, QS9000, UL, RoHS. |